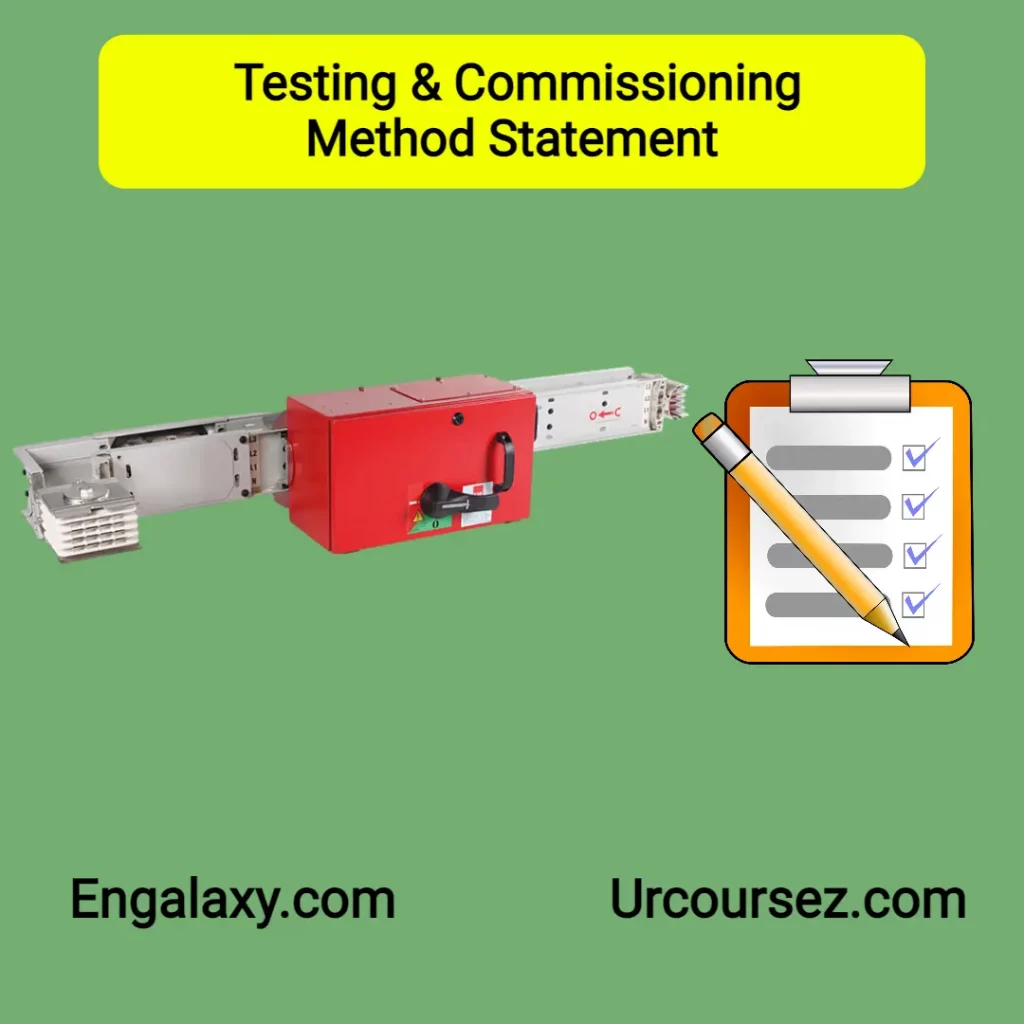 Hi again. Today we will know step by step how to perform Busway Testing & Commissioning on-Site from A to Z.
1- Introduction
1.1- System Description:
A bus duct (also called a Busway) is a sheet metal duct containing either copper or aluminum busbars to conduct a substantial current of electricity. It is an alternative means of conducting electricity to power cables or cable-bus.
1.2- Scope:
The scope of work is to conduct Testing and commissioning for Busway Risers to confirm readiness to be placed safely in service, ensuring the project performance requirement and preserving a log of the testing measurements taken during commissioning for future reference.
1.3- Objective:
The purpose of this method statement is to define the step-by-step procedure to implement the correct practices for the Testing & commissioning of Busway Risers through the guidelines contained here to ensure that the job execution complies with the project specifications and serves the intended function to a satisfactory level.
2- Prerequisites to Procedure
2.1- Site Accessibility and Safety:
Free access is provided to officially appointed personnel only
A safe environment is provided in electrical rooms
2.2- Documentation for inspection:
A method statement is approved, including test forms.
2.3- Quality Control Test reports and submittals:
WIR for installation is cleared from the major items.
WIR for testing all the cables connected to the BUSWAY RISER is approved.
2.4- Power on the requirement
All Electrical Pre-commissioning is to be completed, witnessed, and approved.
3- Design Parameters
Relevant manufacturer recommendations
Relevant design and document approvals.
Relevant materials approvals.
4- Reference Documents/Drawings
4.1- Specification Reference:
Specification of project 16910
4.2- Relevant Codes / Standards:
4.3- Approved Drawing Reference:
Related approved schematic drawings references are to be attached to WIR & test package
4.4- Approved Schematic Drawing Reference:
Related approved schematic drawings references are to be attached to WIR & test package.
4.5- Relevant Approved Material Submittal:
Related approved Material Submittal references are to be attached to WIR & test package.
5- Pre-Start Checks/Pre-commissioning
List all pre-commissioning checks:
The following Checks shall be done for Busway Risers:
A- Ensure that the Busway Riser installation is complete and all electrical & mechanical comments on the installations are completed & approved.
B- Ensure that no damage has occurred between mechanical completion & pre-commissioning.
C- Check that the installation location is free of any water or construction debris.
D- Ensure that the BUSWAY RISER is tagged correctly & identified location-wise and service-wise as specified.
E- Ensure that the wiring termination to the Busway Riser is complete, tight & secure.
F- Ensure that the outgoing cables from the BUSWAY RISER are terminated in the respective equipment panels & adequately tagged and identified.
G- Ensure that the earthing of the Busway Riser is completed.
I- Ensure that the cables to the BUSWAY RISER are correctly tagged & identified.
6- Commissioning/Test Procedures
6.1- Insulation Resistance Test:
· Ensure Isolation of all incoming and outgoing cables.
· Apply a voltage of 500 volts DC between phase 'R' to Earth for 1 minute with phases Y, B & N shorted & earthed & record the values.
· Repeat the test for other phases as well.
6.2- Busbar Torque Test
· Refer to the table below for the Torque Wrench setting with respect to the hardware size.
· Ensure the proper tightness of the busbar joints with the torque wrench.
· After confirming the correct tightness, apply a red mark on the hardware for indication.
6.3- Commissioning Procedure:
· You need to ensure that all the pre-commissioning checks are carried out successfully.
· The incoming supply of the Busway Riser shall be measured for current, voltage, frequency & phase sequence.
· Check trip operation of circuit breakers (where applicable).
· Check the incomer trip setting.
· Check the circuit breakers on/off function.
· Check the overload relay setting.
· Check timer setting.
7- Interface Procedure
· Permanent power should be provided.
8- Documentation
List all relevant test sheets.
· T&C- BUSWAY RISER Pre-Commissioning Check Sheet.
· T&C- BUSWAY RISER Commissioning Check Sheet.
· Instrument Log.
9- Demonstration Procedures
After completing the procedures mentioned in section 6.0. The Inspection request with all relevant documents to be sent to Main Contractor for review and inspection.
After initial verification by the Commissioning Manager, the PMCM will be invited to witness the works.
After attaining approval, test/report sheets to be signed off from all mentioned in the signature block.
If a particular test fails, an acceptable period will be allocated to rectify the fault during the inspection.
Test/report sheets to be distributed as per Project Specifications.
10- Instrumentation
10.1- Personal Protective Equipment:
Helmet.
Gloves.
Goggles.
Safety Shoes.
Hi-Vis. Vest.
10.2- Testing Equipment:
10.2.1- Digital Multimeter test tool used to measure two or more electrical values.
10.2.2- Phase Sequence / Rotation Tester
It's used for detecting the sequence of the supply in three-phase electric circuits.
10.2.3- Clamp Tester
The tool used to measure very high currents
10.2.4- Torque Wrench
A tool that tights the connection bolts to a specific N.m setting
Notes:
· All instruments, testers, and tools will be calibrated and have a calibration certificate not older than 12 months on the test date.
· A Copy of the certificate will be submitted before the test, and it will be available at the site with the device.
11- Staffing
11.1- Testing & Commissioning Engineer
Facilitates all Testing and commissioning of MEP installations of the project, Testing, and commissioning, start-ups, and documentation
11.2- Senior Electrical/Mechanical Engineer:
Controls all the electrical/mechanical installation management processes.
11.3- Safety Engineer:
Responsible for ensuring the safety of the workers and the workplace during Testing and commissioning.
11.4- Commissioning Manager
Verify and approve the testing and commissioning of electrical/mechanical installations and documents before requesting inspections from PMCM/ Client representative.
11.5- PMCMs / Client Representative:
Verify the entire Testing and commissioning of electrical/mechanical installations to witness and approve the test on-site.
11.6- QC Engineer:
Coordinates with the site Engineers and Client Representatives with regards to Testing and commissioning and Hand-over process
Responsible for witnessing the test and will ensure all installation and Testing are approved based on specifications and standards
Should attend during Inspection, Testing & Commissioning, and handover.
11.7- Site Foreman/ Electrician:
To assist with the Testing and commissioning of electrical/mechanical works.
11.8- Supplier's Representative:
To assess the Testing and commissioning of their owned/supplied electromechanical equipment.
12- Safety Aspects & Permit to Work Requirements
12.1- Health and Safety
12.2- Introduction
. All sub-contractors will comply entirely with JLL approved HSE plan / Ref.
. The contractor must adhere to the JLL health Safety& Environment Policy.
12.3- Safety Aspects & Permit to Work Requirements
· All employees involved in the activity shall undergo a site HSE induction course before the work site.
· Site activities shall be carried out safely according to the approved "Project Health, Safety and Environment Plan."
· Commissioning team must follow the Client permit-to-work system (Internal) and Client LOTO procedures.
· The commissioning team must read, understand, and follow the JLL / Client LOTO procedures.
· Designated permit issuer/receiver or coordinator shall be appointed to control the commissioning area and commissioning works.
12.4 Training
All commissioning & testing personnel will attend a Safety Commissioning Meeting and pre-commissioning safety training before work commences.
12.5- Hazards Related to Testing & Commissioning
· The following HSE training shall be delivered to the person but not limited to:
Working at height
Hazards from electricity
Use of Power/hand Tools
Night working.
12.6- Risk Assessment and Control
· HSE Hazards involved in the activity have been assessed through the Hazards & Effects Management Process (HEMP) for every activity, and the outcome is recorded. The contents of the HEMP Register shall be disseminated within the shift supervisor/foreman's teams through toolbox talks.
· Any new hazards identified other than in the HEMP regarding site conditions shall be assessed, and the Site Engineer/Supervisor shall take control measures before the commencement of any activity.
· The following control measures generally apply to all hazards that shall be adopted as a proactive measure, in addition, the specific controls identified in the HEMP register:
Correct use & Maintenance of tools and equipment.
Deployment of a competent personnel for the task.
Conduct daily toolbox talks before work commencement.
Good Housekeeping.
Adequate and effective supervision.
Provisioning appropriate PPEs based on the nature of the works.
Awareness about emergency response.
12.7- First Aid / Medical Facility / Emergency Response
· Availability of First Aiders, with ready access to first aid boxes kept at the site, shall be ensured at the worksite.
13- Attachments
Test Sheets
T&C- Commissioning Check Sheet.
Risk Assessment.
All our method statements are available on this link:
https://engalaxy.com/method-statements
Join Our Professional Email List to be notified of New Courses, Free Downloads, Articles…..and much more