In this article, you will know the meaning of PPE, and the most important 10 PPE to be used in the construction project. So, let's start it.
If you are in the construction field, or even watched any construction project during its execution, sure you noticed the construction team use PPE.
You need to know that any person is working, or supervising, or even visiting an ongoing construction project, shall use at least more than one item of the approved PPE onsite by the HSE department.
So, let us know what is the meaning of PPE & HSE?
"PPE" is the abbreviation for Personal protective equipment.
The importance of that will protect the user against health or safety risks, hazards at work.
These are different types of hazards: physical, electrical, heat, chemicals, biohazards, and airborne particulate matter.
While "HSE" is the abbreviation of Health, Safety, and Environment.
The HSE department on projects will have team members who will assure all the persons in the project understand, follow the proper safety instructions as per approved procedures, and regulations.
HSE team on in the presence of the supervision teams on a daily basis conduct toolbox talk to the laborers & staff.
This is to assure everybody from the different departments or disciplines understand that Safety is first either for them or for any other person in the project.
The usage of the PPE depends on the activity on-site.
So, I will give you a summary of the most important PPE in projects, where their usage depending on the executed activity.
1- Safety Helmet.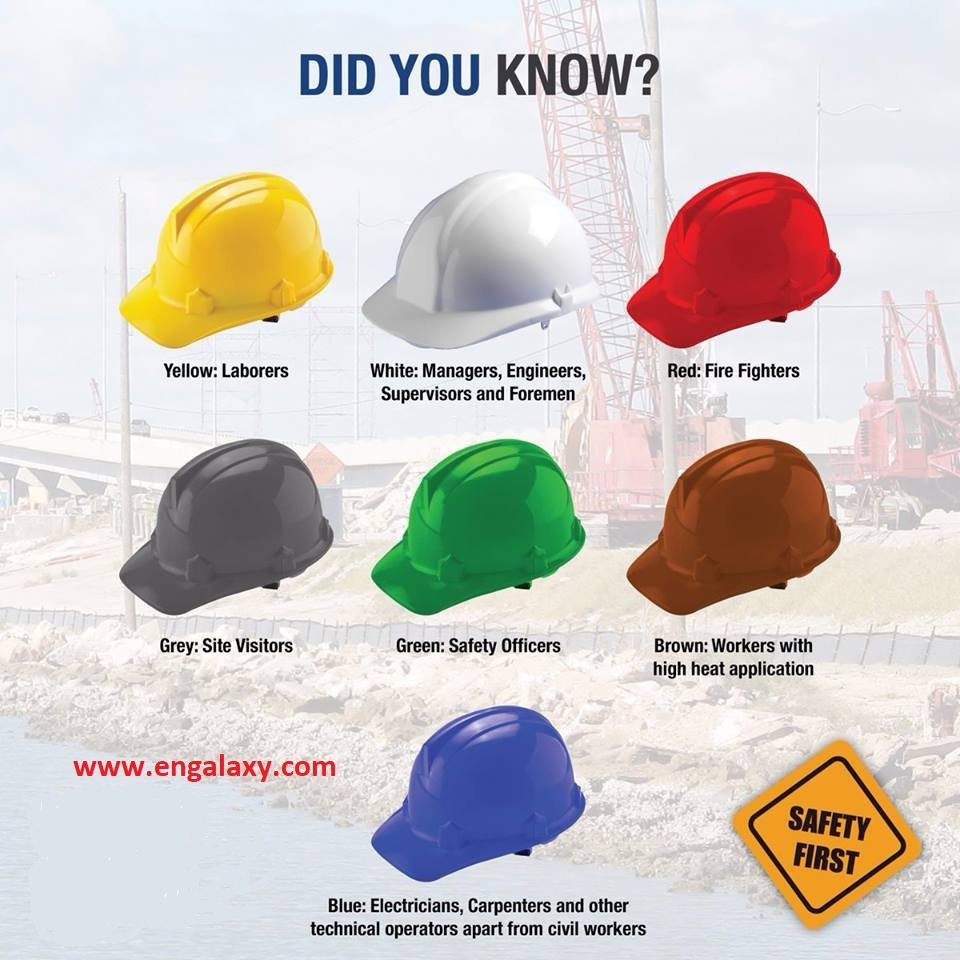 They are hard hats that will protect the user's head against impact from objects falling from above, by resisting and deflecting blows to the head.
There's a color code for using Helmets in projects.
For example, the white color for the managers, Engineers, Supervisors, and Foremen.
The Yellow color helmet for Labors.
The Blue one is for electricians, carpenters, and any other technical operator apart from the civil workers.
The Green helmet for safety officers.
The Grey for site visitors.
The Red one for firefighters.
You can have a look at all the types of these helmets and their color from this link:
Click here to watch the different characteristics of the helmet
It's protective apparel to enhance visibility with hi-vis colors like orange and yellow/lime.
If you would like to know more about the technical specifications of this type of safety vest and its available colors, please click here
They are the shoes that help prevent many foot injuries in the following ways:
Protect from falling & flying objects.
It protects from punctures from nails and sharp edges.
Protect from electrical hazards exist in the workplace.
Also, prevent slips, trips, and falls.
Prevent from extreme weather conditions.
Prevent burns that can happen in the workplace.
If you would like to have a look at good safety shoes. please click here
It is a flexible pad held over the nose, mouth by elastic or rubber straps.
It protects against dust encountered during construction or cleaning activities.
Dust can be from drywall, brick, wood, fiberglass, silica (from ceramic or glass production), or sweeping.
If you would like to see good quality face & dust mask, especially against COVID-19, please click here
It is a garment covering the whole hand.
Gloves usually have separate sheaths or openings for each finger and the thumb.
Please check very good hand gloves from here
It is a device we use to insert in the ear canal.
It protects the user's ears from loud noises, the intrusion of water, foreign bodies, dust, or excessive wind.
Since they reduce the sound volume, also they can prevent hearing loss and tinnitus (ringing of the ears).
It is a form of protective equipment that helps protect a person, animal, or object from injury or damage.
The harness is an attachment between a stationary and non-stationary object.
It consists of rope, cable or webbing, and locking hardware.
The technicians and laborers use the safety harness especially when they standing at high levels like when they are using scaffoldings.
You can check a very good safety harness from here
They are forms of protective eyewear that usually enclose or protect the area surrounding the eye in order to prevent particulates, water, or chemicals from striking the eyes.
It's a water bottle that is a container that is used to hold water, liquids, or other beverages for consumption.
It's very important that the labors & technicians use them during the working day, especially in the summer season to avoid dehydration.
10- Fire blanket:
A fire blanket is a safety device we use to extinguish incipient (starting) fires.
It consists of a sheet of fire retardant material, we use it to place over a fire in order to smother it.
We use it during different activities on-site, like Arc welding, Exothermic welding for lightning protection systems, grinding of metals….etc.
You can have a look at this awesome fire blanket, click here
Also, if you would like to watch how to use this fire blanket practically on-site during the exothermic welding, please enroll in our Best Seller Electrical Practical Installations Course
All my recent and upcoming posts can be found on this link
If you want to know more about these products and their cost, so you need to check the below links:
01- Helmet: https://amzn.to/3lLrKq2
02- Vest: https://amzn.to/2VIgTTe
03- Safety Shoes: https://amzn.to/2IkvSQe
04- Dust Mask: https://amzn.to/37H7MaK
05- Hand Gloves: https://amzn.to/2VIufPm
06- Ear Plug: https://amzn.to/37FCwZQ
07- Safety Harness: https://amzn.to/2JWnWoQ
08- Goggles: https://amzn.to/3orBcke
09- Water Bottle: https://amzn.to/2SAq6MV
10- Fire Blanket: https://amzn.to/2JSwg93
Join Our Professional Email List to be notified of the New Courses, Free Downloads, Articles…..and much more